Electro Suspension Magnets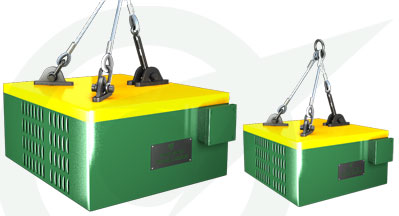 ELECTRO SUSPENSION MAGENTS INTRODUCTION:
Electro magnets are engineered for use in high volume and deep burden applications. Their primary advantages are their "deep reach" and the ability to be turned on and off. Mounted over a vibratory bed or belt conveyor, these magnets set the industry standard for strength.
ELECTRO SUSPENSION MAGNETS:
Electro Suspension Magnets consisting of aluminum or copper wound coils immersed in a transformer oil (for prevention of overheating or shorting) or air-cooled for extreme or dusty environments.All electro suspension magnet comes along with control panel. Operating heights up to 150 mm to 450 mm are available. Manually cleaned magnets can be supplied with a stripper mechanism. No power consumption, virtually maintenance free.
OPERATION:
The ERBM Series magnet is a powerful oil-cooled electromagnetic plate magnet, suspended over the conveyed product stream. The magnet should be located in an area on the production line that allows easy access for proper maintenance of the magnet and it should be operated in an area where no integral parts of the conveying system can become magnetized; such as idler rollers, pulleys or belt support plates.
Manual Clean (MC) units must be periodically turned off in order to discharge iron accumulated on the face of the magnet. They are suitable for applications where only occasional tramp iron is expected. These magnets are usually suspended from a travelling trolley so that they can be swung clear of the conveyor before the iron is released.
Self-Clean (SC) Suspended Electromagnets provide continuous, automatic removal of tramp iron and feature a heavy-duty belt, a channel frame for supporting the pulleys, adjustable belt take-up and drive. They are recommended where a large amount of tramp iron is expected or where there may be limited access to the magnet for cleaning purposes.
ELECTRO SUSPENSION MAGENTS MAIN FEATURES:
Rugged-all-welded construction can efficiently prevent the coil from erosion of moisture, dust and harmful gas. Good environment and climate suitability, safe and reliable in operation and convenient maintenance.
The magnetic circuit is designed in optimization with deeper permeability,and its geometrical figure in the space magnetic field shaped semi-sphere so that will produce much stronger magnetic force compared with the other wares.
Field winding coil treated by vacuum desiccation and filled with special packing material to improve its mechanical and electrical performances and keep a long service life.
Easy to form a complete set with other equipments to meet the different requirements under all kinds of circumstances.The relevant commutating equipments have complete functions available.
ELECTRO SUSPENSION MAGENTS OPTIONS:
Stainless steel wear plates
Turnbuckles
Volt Meters
Amp meters
Line fuses
Disconnect switch
Suspended Permanent Magnets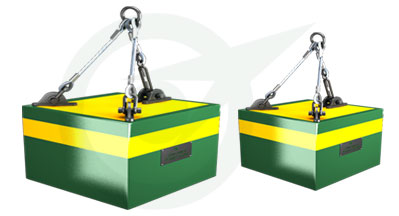 SUSPENDED PERMANENT MAGENTS INTRODUCTION:
Star Trace Suspended Permanent Magnets are designed for high separation performance in over-the- belt conveyor applications. These heavy duty permanent magnets incorporation all welded construction are particularly effective in removing tramp metal in high volume applications.
Produces strong magnetic field attraction. The separator body adopts rare earth permanent magnetic materials featuring high remanence, high coercivity and high magnetic energy as magnetic source. The magnetic property is persistent with high temperature stability.
The magnetic steel is chosen from the national famous magnetic material enterprise (national inspection-exempted product) with high purity material and advanced manufacturing process to ensure the magnetic property will not affected by ambient temperature and mechanical vibration.
The magnetic material is electroplated on the surface, and assembled with particular clamp by special man, to minimize the difference and make strict anticorrosion treatment. This series links up with transportation equipments such as all types of belt conveyors, vibration conveyors and charging pipelines to form a complete set to remove the iron magnetic materials under weight of 0.1~0.5kg mixed among the non-magnetic materials to ensure normal & safe operation of the next-step equipment (such as muller, crusher, etc.).
This series of products are widely applied for cement industry, power industry, ore industry, ceramic industry, non-metallic ore industry, metal industry, chemical industry, glass industry, paper-making industry, building industry, sugar refining industry, pharmaceutics industry, food industry and so on. This product series can run under adverse environments without failure for a long time.
Suspended Permanent Magnets Features:
Permanent magnet field
No electrical hook ups
Compact design
Heavy duty impact plate
Stainless steel angled cleats
Suspended Permanent Magnets Options:
Stainless steel plates
Turn buckles
Easy clean stripper pan
Suspension kit for fixed mounting to conveyor frame
Suspended Permanent Magnets Selection:
Selection this type magnetic separator depends on the
Feed material
Size
Feed depth
Depends on width and speed of your belt conveyor.
suspension magnets
how does a electro suspension magnets work
electro suspension magnets
electro suspension magnets for sale
electro suspension magnets china
electro suspension magnets manufacturers india
electro suspension magnets capacity
electro suspension magnets design
electro suspension magnets wiki
electro suspension magnets design
electro suspension magnets india
electro suspension magnets sale
electro suspension magnets manufacturers
about electro suspension magnets