Features Of Electro Suspension Magnets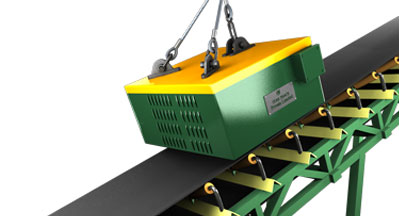 The following are the features of Electro Suspension Magnets:
Non-combustible coolant.
Internal expansion tank.
Insulated copper/Aluminium coils.
Heavy duty impact plate.
Stainless steel angled cleats.
Steel dust enclosures for magnet installations in dusty locations.
Rugged-all-welded construction can efficiently prevent the coil from erosion of moisture, dust and harmful gas. Good environment and climate suitability, safe and reliable in operation and convenient maintenance.
The magnetic circuit is designed in optimization with deeper permeability,and its geometrical figure in the space magnetic field shaped semi-sphere so that will produce much stronger magnetic force compared with the other wares.
Field winding coil treated by vacuum desiccation and filled with special packing material to improve its mechanical and electrical performances and keep a long service life.
Easy to form a complete set with other equipments to meet the different requirements under all kinds of circumstances.The relevant commutating equipments have complete functions available.
Features of SUSPENDED PERMANENT MAGNET
The following are the features of SUSPENDED PERMANENT MAGNET:
Permanent magnet field
No electrical hook ups
Compact design
Heavy duty impact plate
Stainless steel angled cleats
Options:
Stainless steel plates
Turn buckles
Easy clean stripper pan
Suspension kit for fixed mounting to conveyor frame
Selection:
Selection this type magnetic separator depends on the
Feed material
Size
Feed depth
Depends on width and speed of your belt conveyor.
suspension magnets
how does a electro suspension magnets work
electro suspension magnets
electro suspension magnets for sale
electro suspension magnets china
electro suspension magnets manufacturers india
electro suspension magnets capacity
electro suspension magnets design
electro suspension magnets wiki
electro suspension magnets design
electro suspension magnets india
electro suspension magnets sale
electro suspension magnets manufacturers
electro suspension magnets features